counselling
Current Counselling Arrangements
Individual and Couples Counselling is currently being offered on Zoom / Skype / Telephone or in person (COVID restrictions allowing) on weekdays and weekends. These sessions are offered on a short term or long term basis and can be as flexible as is needed.
The current Coronavirus situation can trigger or exacerbate pre-existing issues, and also create new challenges and difficulties.
Counselling offers a safe space in which to explore, understand and work towards resolving any issues we may be experiencing.
Please contact me on info@melissalomas.co.uk for further information or to arrange an Assessment Appointment.
I offer Individual Person Centred Counselling weekdays by appointment. Person Centred Counselling is an approach which empowers the client and allows them to determine the direction Counselling may go in so that they can address, process and resolve the issues they have brought to Counselling. I work with clients in an empathic way, seeking to understand their experience as fully as possible, both through what they tell me in sessions, but also through their body language and patterns of behaviour.
I offer a safe, non-judgemental space in which to explore issues, and work with respect and consideration. I work with honesty, candour and aim to be as authentic as possible with all clients.
A variety of Counselling tools are available depending on the needs and interests of each client, these can range from journal keeping, to visualisations, breathing practices, colour and image work, and role play, to name just a few.
I have experience of working with male and female clients with the following issues:
Depression
Anxiety
Stress
Eating Disorders
Abuse
Relationship issues
Work difficulties
Redundancy
HIV and Blood Borne Viruses
Sexuality
Voice Hearing
Self-harm
Attachment issues
Mental Ill Health
Domestic Violence
Sexual Violence
Bereavement and Loss
Low self-confidence
Isolation
Training & Qualifications
I have completed several years of Counselling training with CPCAB (Counselling and Psychotherapy Central Awarding Body.) In 2013 I completed their Introduction to Counselling course, in 2014 Counselling Theory and in 2017 I was awarded my Diploma in Therapeutic Counselling.
I am a fully registered member of the BACP (British Association for Counselling and Psychotherapy).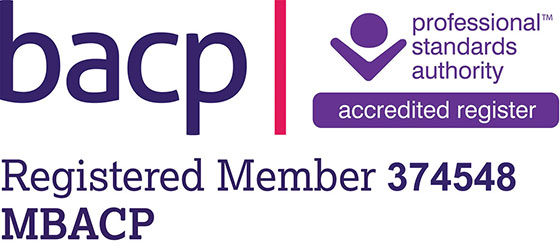 Counselling Sessions & Fees
An initial Assessment appointment is offered to meet and discuss what brings a client to Counselling and to look at what needs a client may have.
Weekly sessions are then arranged and booked on a six-weekly basis, with a review at the end of the six weeks to look at whether the client feels they need further sessions or not.
This six-weekly block allows time to look thoroughly at any issues the client has brought to Counselling, and to establish a secure therapeutic relationship to allow the work to take place.
| | | |
| --- | --- | --- |
| Assessment appointment | 50 mins | £20 |
| Counselling appointment | 50 mins | £40 |
| Couples Counselling | 50 mins | £50 |
| Trainees | 50 mins | £30 |
Venue
I offer Counselling Appointments in the centre of Penistone, South Yorkshire.  There is ample free parking nearby, and good train and bus links.
'I am very grateful to Melissa for her help in aiding my mental rehabilitation and would not hesitate to recommend her as an excellent counsellor.'

'Melissa has innate emotional intelligence and compassion, together with a keen understanding and bright intellect: qualities she employs to good effect using her excellent counselling skills.'

'I found Melissa's approach professional and at the same time very caring. She quickly understood my issues and put me at ease.'

'Melissa has been a huge help to me in recovering from a physical trauma, she listened carefully, and kept very accurate track of the progress of my physical and mental state. She made gentle observations pointing me towards helpful ways of thinking and acting.'

'I have had the good fortune and privilege to work with Melissa, despite the fact that I have incurable cancer she consistently nurtures my personal growth and development and helps me to find joy in daily life.'

'Melissa is a caring, compassionate and empathic person who can be trusted to deal professionally with a wide range of issues. I would recommend her without hesitation.'

'I found Melissa's approach professional and at the same time very caring, she quickly understood my issues and put me at ease.'
I'd love to hear from you with any questions, feedback or comments. Please call, or email and I'll be in touch with you soon.